Since it doesn't look like ill be buying a new game to review for a while i think i will be going back to some 2012 games i didn't get a chance to review. I'm going to start with The Walking Dead.
First lets talk about the story, it is based on the comics that came before it with some appearances from and references to the TV series. You are Lee Everett a recently fired university professor who is convicted of killing a state senator who was sleeping with his wife and was on his way to jail to serve a life sentence when the cop car he was in crashing into the woods after a collision with a walker. It is from here that you first meet the other main character clementine who is a young girl whose parents are out of town and likely dead who you must try to protect. You will stick with clementine throughout the entire game which is split into 5 episode that are released a few months after the previous one. I don't want to spoil the story for you so i wont go into detail but decisions you make will cause a ripple effect that with make an impact on the rest of the game and while some of these decisions may not feel like they have that much impact there are plenty that can cause problem between you and other people in your group and decide the fate of some characters. Overall the story is fantastic and makes the game one of my favorites of 2012, it sucks you in and has some really heart felt and emotional events that effect the characters you have got to know and love so it can hit you hard seeing them die or going away.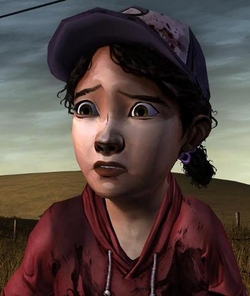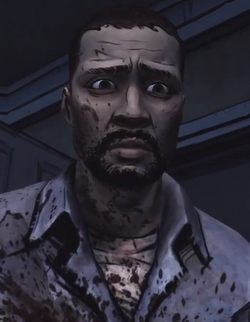 Next we come to the gameplay and graphics. The gameplay is standard for a point and click, which means you will be walking around and interacting with your environment and the things in it. For example you will have to unscrew a lock so you can get in a room, this means finding a screwdriver which will be somewhere nearby for you to pick up. The combat follows the same lines, when you have to defend yourself you will have to click the zombie when prompted so you kick, punch or shoot it, there are a few instances where you will have the use of a scoped weapon and will have to aim and shoot which helps change things up a bit. The graphics are fantastic, they are in the style of a cartoon and on the pc it had good textures, although there is a pretty noticeable difference in texture quality on ps3 and xbox which are a unsurprisingly worse.
This brings me to my final score which is going to be a 9/10, with a fantastic story and well written character you will be sucked into a deep and involving story line with some good gameplay elements, the only thing holding holding the game back is the feeling that sometimes your decisions don't have much impact, other than that this game is a must buy and with an obvious sequel coming out this year you should jump in and experience this fantastic game before the second series arrives.
Overall = 9/10